I received a special box while Delphine was in the hospital full of knitting goodies (and some fun gifts for Dominic and Delphine). Let me tell you, what a treat! It was the perfect gift to keep me busy and calm during a very stressful time.
Here is the very cool
sushi wallet
...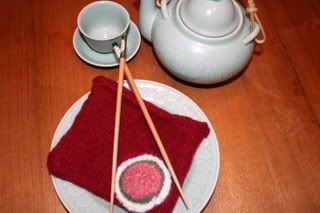 Needless to say, while staying in the hospital, waking up several times a night with the nurses, worrying about my little d, and having to go into work - I've been a little brain fried. There is a part in the pattern that describes how to make a little tube where the zipper would be. I'm sure it's a pretty basic thing to do - but I could just not wrap my brain around it. I couldn't get it to work - I kept trying different things but they just weren't right. I went to sleep that night and woke up in the middle of the night and realized I knew EXACTLY what I was doing wrong. I had to wake up Vince to tell him that I solved the problem while sleeping!
Next project will be a flower that I can't kill -
a knit daffodil
.
I've not posted a public thank you to those of you that sent me some wonderful goodies yet...I want to make sure I know of everyone I need to thank. I suspect however, that most of you here were part of it...so thank you so very much. You girls knew just what I needed!